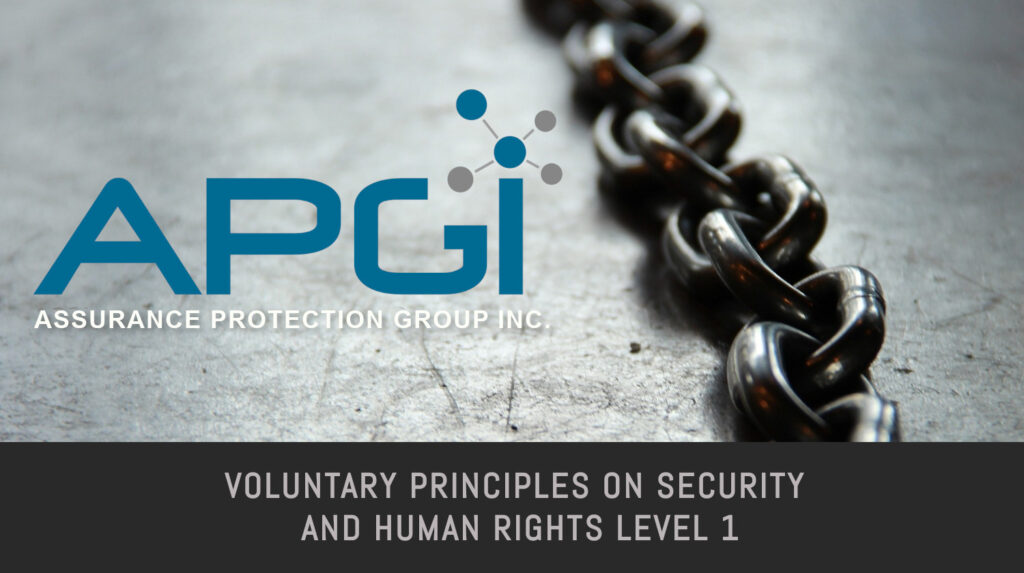 Voluntary Principles on Security and Human Rights Level 1
At Assurance Protection Group Inc. we protect people, processes and property. There are very few experts on the planet who have our experience and our vast international network. As integrity is extremely important to us we only give you what you really need, not what you don't. We are world leaders in security human rights training because we understand that all risk mitigation, regardless of the industry, starts with people.
Created in 2000, the Voluntary Principles is a multi-stakeholder initiative that promotes the implementation of a set of principles that guide companies on providing security for their operations while respecting human rights. Security concerns present particularly challenging issues that benefit from a multi-stakeholder approach. Different stakeholders bring unique perspectives and have access to different types of information.*
In support of this initiative and having been exposed to the mining industry for more than 30 years, APGI developed this basic but essential training program for Security Professionals. We have conducted many security audits across the world and have firsthand experience with these principles. Failure to comply has resulted in various human rights issues including job loss, millions of dollars in corrective actions and legal claims, and sadly even loss of life. It is essential that Security Employees be aware of these principles and that they are properly trained in them to avoid unnecessary tragedy.
LEVEL 1 – Course Content
1. History of human rights
2. What are human rights?
3. Who is responsible for human rights?
4. Basic human rights
5. Why do we need human rights?
6. Factors that may contribute to human rights abuse
7. The role of the employee in the execution of human rights
8. Key requirements for a human rights policy
9. Voluntary principles on security and human rights
10. The obligation to report incidents of violence
11. Human rights and law enforcement by security officials
This course comes complete with a full Workbook and a Certificate of Completion from Assurance Protection Group Inc.
Voluntary Principles on Security and Human Rights Level 1 was originally offered at a price of $3,000 as an in-person, live, 4-day workshop. We have adapted the content into this on-line course and we are offering it at a fraction of the cost. Some of the material contains sound, video, voice-overs, imagery and quizzes that will assist you in your learning journey. You will still benefit from the full content, the complete workbook, and a Certification at the successful completion of the course.
Regular Price: $499.00
Limited Time Offer: $150.00